BIO
Megan Little works with paper, wire and light to sculpt forms that delight the eye and invite curiosity. With a BA in Arts in the Visual Arts from Houghton College, and a Masters of Theological Studies from McMaster Divinity College, Megan combines her dual passions for art and theology in her current work.

Megan works, plays, and creates in Hamilton ON where she is serves with the Greater Ontario House of Prayer (GOHOP). She co-leads Asah: Creativity & Prayer Studio, a monthly gathering to explore the relationship between art, prayer and imagination.

Prior to moving back to Canada, Megan lived in Nashville, TN, where she served as President and sat on the board of the non-profit print studio Platetone, Printmaking, Book and Paper Arts. She taught numerous workshops at libraries, schools, and events with the non-profit Turnip Green Creative Reuse and also taught printmaking workshops for adults and children in the Nashville, TN area.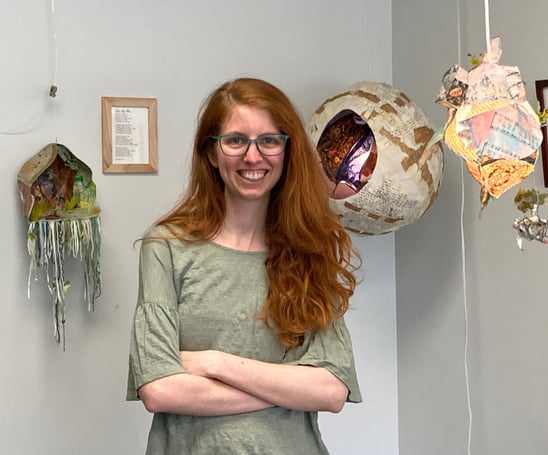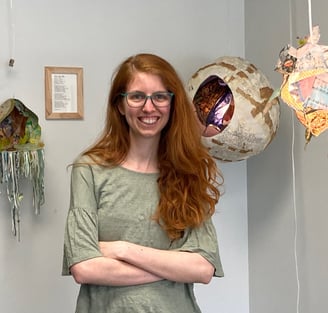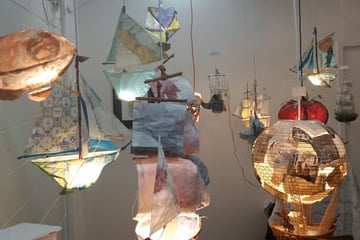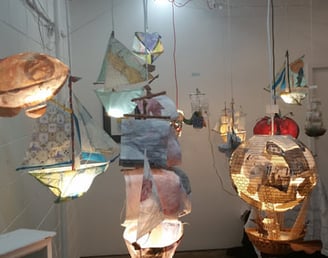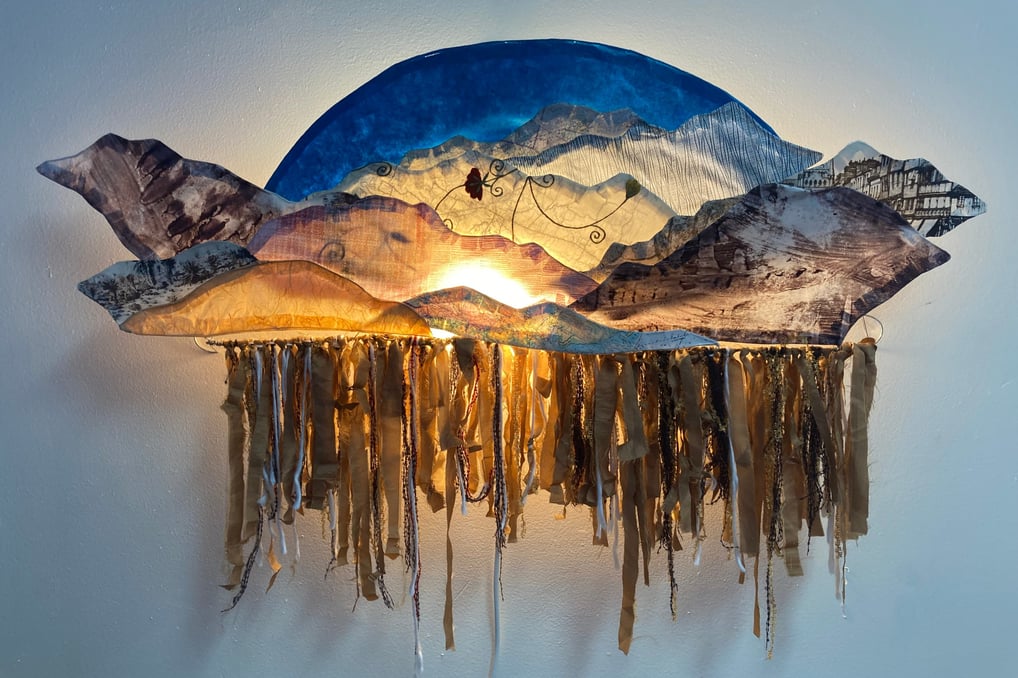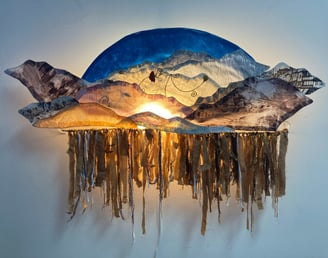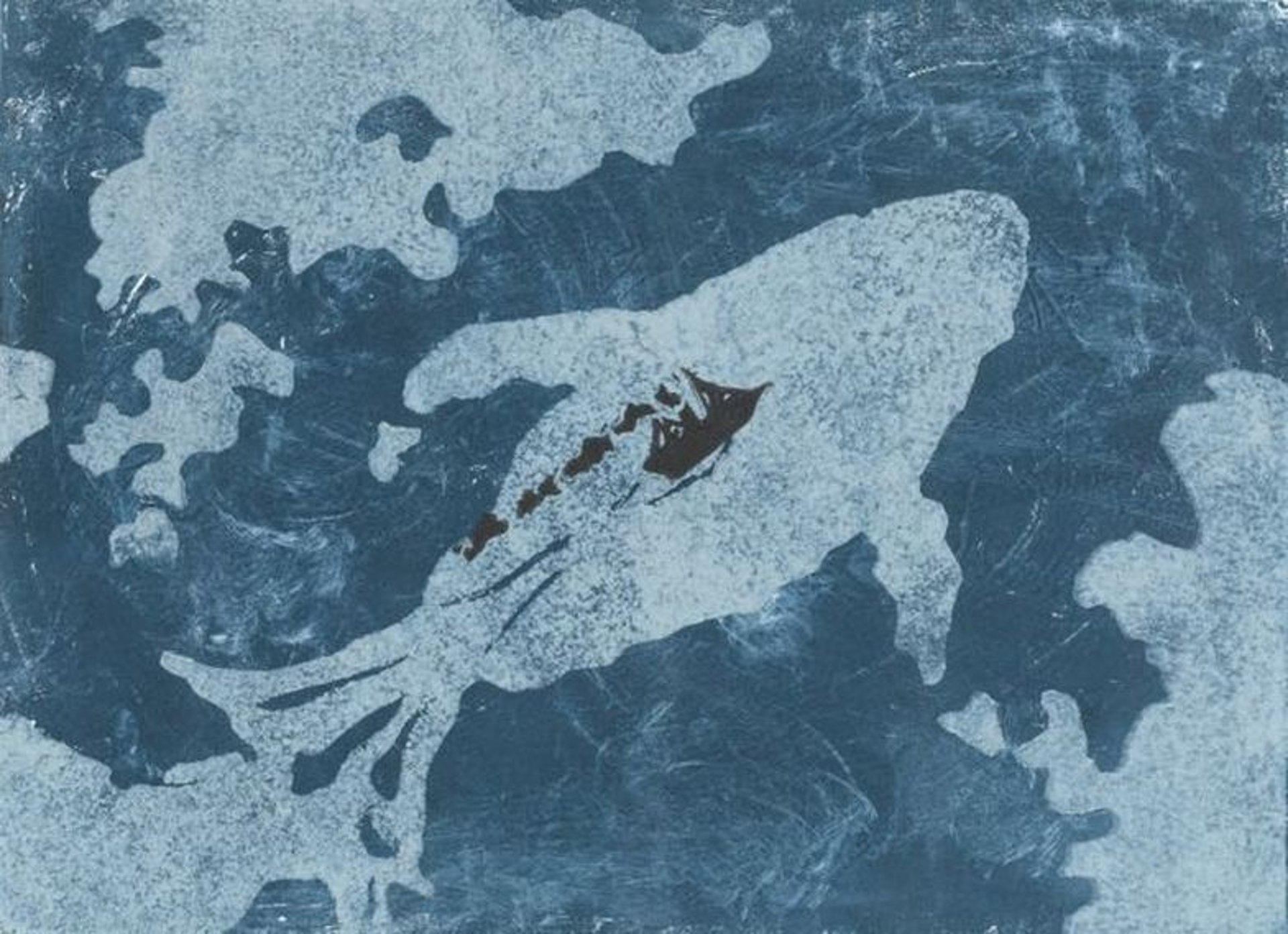 I believe that the richest and truest forms of art spring unashamedly from the soil at the center of a human being. The pulsing core of my life is not a solitary self-defined 'me' but rather a complex and beautiful friendship with my brother and the lover of my whole self: Jesus. My creative work is an attempt to give language to the great dance of love at the centre of my life; a humble yet fiercely determined act of visual and poetic storytelling.

My work also has a sense of playfulness and wonder to it, and I love to help people embrace their inner kid and encounter God in unexpected and unselfconscious ways. My impulses to explore, collect, and see the beauty in little things drive my inclusion of a variety of materials and found objects. I thrive in playful and experimental combinations of materials and techniques in ways I have not tried before or not seen others try.

Ultimately, my hope is encountering my work will make my audience curious and awaken their desire to encounter their Creator through beauty and in the joyful and messy act of creating.
2007-2011
Houghton University
Masters of Theological Studies
2019-2021
McMaster Divinity College
Solo Exhibitions
2022 Awakenings: MDC Artist Series, 2022, McMaster Divinity College

2017 Afloat and Gleaming, Green Gallery

2017 Travel Watercolors and Monoprints, Patricia Gordon Memorial Gallery

2016 August Exhibit, Patricia Gordon Memorial Gallery
Selected Group Exhibitions
2023 Art in the Workplace Exhibit 36: McMaster Innovation Park

2022 GOHOP GALA EXHIBITION: Greater Ontario House of Prayer

2022 Art in the Workplace Exhibit 35: McMaster Innovation Park

2019 Tread lightly, Eucharist Church

2018 Fur & Feathers, Shells and Scales, Patricia Gordon Memorial Gallery

2017 This, That, and Another Thing: Platetone at Belmont, Gallery 121

2016 Pop-Up Exhibition, Picture This Creative Framing and Gallery

2016 Many Hands Make Light Work, Blend Studio

2015 Our Journey, 40AU Gallery

2015 Platetone Exhibition, Green Hills Library

2014 Flying Solo, Nashville Airport

2014 Past, Present and Future: Platetone 10th Anniversary Exhibition, Harpeth Hall Gallery

2013 Alumni Exhibit, Ortlip Gallery

Artist Residencies
2019 Artist Residency at Eucharist Church in Hamilton ON CA

2017 Artist Residency at Turnip Green Creative Reuse in Nashville TN USA
Publications
2023 Creative Artist Feature in the March - April issue of Faith Today

2020 Artist Spotlight in the Summer issue of Love is Moving
Video About Artist Residency at Eucharist Church 2019
Much of the artwork on my website is currently for sale. I am working on creating a price list for easy access to all this information and will post it here once done. In the meantime, feel free to contact me if you would like to know more about any of the work you see.

Thank you!
-Megan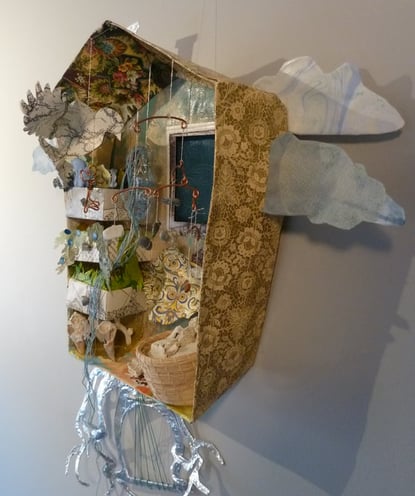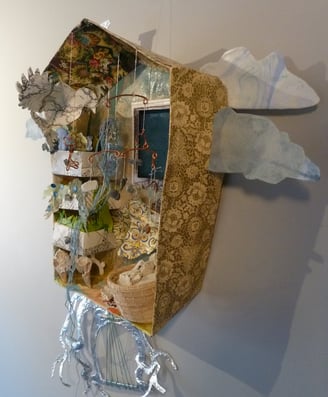 I have a huge passion for the Bible and bringing it to life for people! Below are links to a few of my sermons.
...thank you for your message, it was very moving and helpful. You have such a lovely natural way of speaking, humbly but with conviction and did such a great job navigating communion in an unfamiliar church also.